History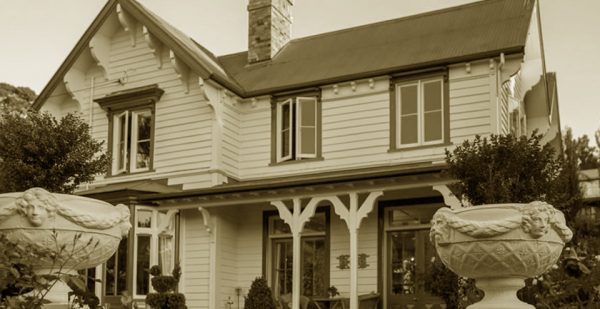 The house was built and named "The Wilderness" in 1878 by George and Mariane Nalder who had emigrated some 10 years before from England. George Nalder was a Barrister and Solicitor who practised in Akaroa having moved from Christchurch due to Mariane's health. They were keen gardeners and ornithologists and saw great potential in situating their home on a five-acre block on the sunny side of the Grehan Valley. The site was chosen very carefully to provide all year-round sun, protection from the southerly winds and is above the frost zone.
They created a beautiful garden with many roses, camellias and magnolias which still exist today and a magnificent Bunya Bunya tree (monkey puzzle family) which has been protected as a notable Akaroa landmark. The house itself was built from totara, rimu, and matai, with kauri doors that are still in place and enhance the magnificent formal entrance hall and stairway. The house is also protected by the local Council as another notable historic Akaroa building.
The property became well known after the turn of the century when in 1902 Constable and Mrs Shepherd purchased the home and it became a private boarding establishment. The Fyfe sisters carried on with the tradition of operating it as a boarding house until the 1940's.
The property changed little over the following years except that it was reduced in size to just under an acre. In 1996 the 'Walkers' started extensive restoration of the house and grounds in keeping with its wonderful history. It included the establishment of a small private vineyard containing 120 Chardonnay and Pinot Noir grape vines.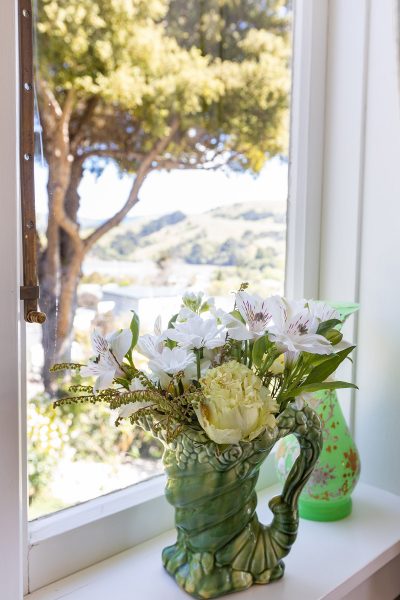 In the year 2000, Wilderness House was established as a Boutique Bed and Breakfast. The four upstairs bathrooms were installed along with the fire sprinkler system. To complete the project the entire house was refurbished and the garden planted with many new roses and perennials.
In 2010 and 2011 a series of earthquakes rocked the province of Canterbury and caused considerable damage. Fortunately, Akaroa was on the periphery and because the majority of the buildings were of timber construction most of the damage was related to brick chimneys which were duly dismantled. During the down time the house was fully refurbished inside and out.
The current owners Sharon and Noel purchased the property in late 2012. Having formerly operated a boutique Bed & Breakfast (Beaufort House) and a fine dining Restaurant in Christchurch, they looked forward to the prospect of moving to Akaroa, as both are keen sailors and wished to live by the sea.
'Beaufort House Akaroa' was a natural progression as they felt 'Wilderness House' was perhaps somewhat misleading in 2013 with shops and restaurants in the immediate vicinity. The established trees and birdlife still abound, the boutique vineyard at the rear of the property with the original servants' quarters gives a wonderful tranquil setting. The historical name will however always be linked with the property, with the bedrooms named after former owners.