Your Hosts – Noel and Sharon
Bonjour!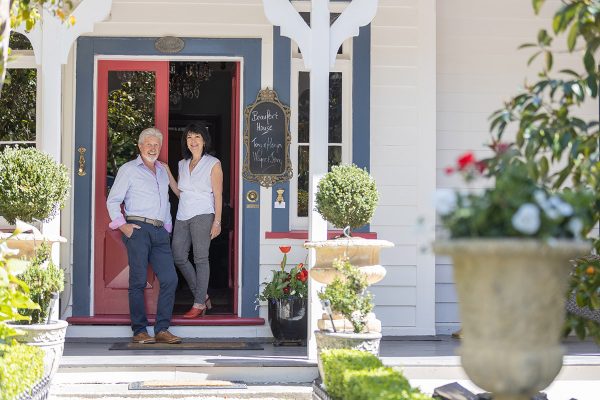 Beaufort House Akaroa (formerly Wilderness House) is owned and operated by Noel McGuigan and Sharon Rees-Thomas. Noel and Sharon are hospitality professionals having owned and operated a fine dining Restaurant in Christchurch for 9 years.
They also owned and operated a luxury Bed & Breakfast in the central city of Christchurch until the earthquake of 22 February 2011.
As Restauranteurs they often hosted special events such as weddings, cocktail functions, private dinners, corporate launches and high teas.
Sharon has a background in sales having worked for a prominent telecommunications company for many years. During her time in hospitality, Sharon managed the Restaurant, was the in-house wedding planner and co-ordinated all special events. Sharon is a keen collector of antiques and period furniture which is reflected in the photo gallery, her other interests include gardening, cooking, travel and sailing.
Noel spent 15 years in the offshore oil industry, travelling to many exotic destinations as a senior driller. He also lectured in blow out prevention and well control in Singapore and London.
Past businesses include a fully irrigated 500 acre farm and a ski and snowboard rental shop. Noel is fluent in German having lived and worked in Germany. His passion is sailing, having completed several ocean voyages and is the proud owner of a 40' Beneteau yacht named 'Roaring Meg'.
He has sailed more than 40,000 nautical miles on his yacht 'Roaring Meg' which he purchased in Annapolis, Maryland USA in 2006. With Sharon plus friends and family there have been many adventures to places as far North as St Petersburg, Russia at latitude 60 degrees North. In Europe we sailed the Mediterranean, the Agean, the Black Sea, the Adriatic, the Irish and Celtic seas, the North Sea and the Baltic.
In 2017 we began the long voyage home to New Zealand, via Bermuda and the America's Cup where Team Emirates were victorious. The next year we sailed to the Caribbean and island hopped through the windward chain of islands all the way to Grenada. After a crew change the next ports of call were Bonaire, Curacao and Aruba, then onto the city of Cartegena in Colombia. Eventually 'Meg' found Shelter Bay Marina in Panama where she 'wintered over' on the hard in a secure boat yard.
Fortunately in 2019 we made the voyage from Panama to Akaroa some 8,500 nautical miles entering the heads at Akaroa on the 20th September 2019. Mission complete!
Now 'Roaring Meg' rocks on a swing mooring just 200 metres off Daly's Wharf. Her new rebuilt Perkins engine was installed – the latest voyage Akaroa to Auckland return for the America's Cup in March 2021.
Beaufort House Akaroa, (formerly Wilderness House) has operated as a guest house/luxury Bed & Breakfast for over 100 years. We look forward to hosting you in this wonderful historic property with the charm, peace and serenity of yesteryear.