Garden & Vineyard
A unique and special Akaroa feature.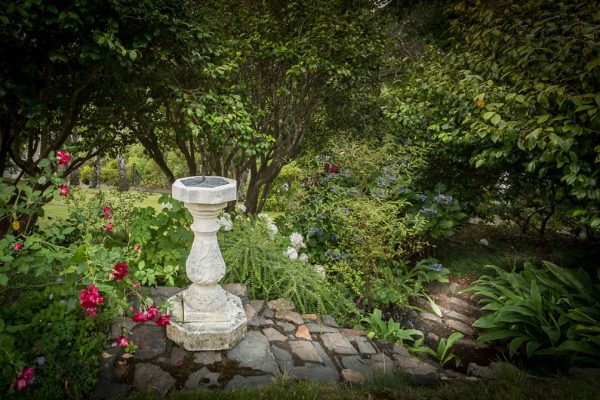 Only a few one acre properties still exist in the Akaroa township and this is one of the most inspiring. The site was chosen very carefully to provide all year round sun, protection from the southerly winds and is above the frost zone. It was originally five acres but now consists of well manicured flower beds, roses, native trees and a petite vineyard. Awake to the sounds of native birds including the distinctive sound of the bellbird.
We invite our Bed and Breakfast guests to enjoy our hospitality and understand our environmental approach to this unique property. We encourage guests to meander along the pathways and perhaps find a private area to sit and enjoy the peace and serenity that this special property has to offer.
Avocado Orchard
In April 2022 we travelled north to Whangarei purchasing 35 small Avocado trees from Lynwood Nurseries, with a plan to replace the 30+ year grape vines at the rear of Beaufort House.  Driving back the trees were watered and arrived safely to their new abode in Akaroa. The wine group we were once part of had disbanded for various reasons mostly owners moving on, the avocados seeming to be a good fit for the area.
The project considerable with a digger required to pull out the rows of vines and then the land area prepared before planting could begin. Noel spent countless areas on the research, with Akaroa being in a microclimate they to date are flourishing.
30 Hass avocados on Zutano root stock plus 5 cross pollinators) Bacon, Ettinger etc)
HASS Avocado trees are type A, meaning they flower from February through May. When the flowers first open in the morning they are female until they close in the afternoon.  The following afternoon they re-open as pollen producing male flowers, thus are self-pollinating. The stakes and overhead frames are for frost protection for the young trees. The high-density planting (2.5 centres) is designed to create 7 x Avocado hedges with a maximum height of 3 metres.  We expect a production of fruit in the third year after planting. This year 16 cubic metres of mulch has been applied to the 'forest floor'.
The trunks of the young trees have been painted with a 50/50 mixture of white plastic paint and water. This is to prevent sunburn on the young trees.