Local Attractions
Things to see and do in Akaroa
Akaroa is nestled in a sheltered bay on Akaroa Harbour and is situated 85kms from Christchurch on a sealed road (Highway 75).
Beaufort House is located only a few minutes' walk to the centre of Akaroa.
Akaroa Dining
Akaroa has a fantastic selection of cafes, wineries and restaurants that will cater for any taste bud. While staying at Beaufort House luxury accommodation, let us know your needs and we can easily offer you advice and arrange a table for you.
Exploring Akaroa
There are many ways to experience the picturesque surrounding area on land and water. Harbour cruises, fishing, diving, horse treks and mountain bikes are popular as well as the many and varied walks. Walking is an ever popular activity and there is plenty to explore within the township and areas around Akaroa with charming vistas and stunning views to reward every footstep. Whether you are looking for a gentle stroll around the town or something more energetic there is a beautiful walk to suit every need.
The "Village Walk" series offers gentle routes through the Akaroa reserves, visiting places of historic interest such as the French Cemetery and the Britomart Monument.
The Garden of Tane is a great place for exploring a myriad of tracks to discover special trees, the old fashioned playground and the atmospheric cemeteries.
For the more ambitious walkers the "Country Ramble" series offers routes ranging from two hours to all day.
Akaroa Shopping
There are many art and craft boutiques as well as genuine New Zealand Jade, Paua and bone carvings. Pottery, knitwear and leather goods are available as well as the exquisite local blue pearls. Akaroa has an abundance of gift ideas.
Akaroa History
The Ngai Tahu tribe had already discovered the charm of the location before Captain Cook sighted the Harbour in the 1770's. Akaroa is the unique site of the only attempted settlement by the French in New Zealand and their influence is still evident today. Visit the Akaroa Museum to find out lots more.
Dolphin watching and wildlife in Akaroa
The Akaroa area is known for its stunning scenery and amazing wildlife. The harbour is home to the Hector Dolphin as well as fur seals. Bird life is abundant and there's always a great photo opportunity. Enjoy the intimate nature experience and encounter Hector's dolphins.
Akaroa is also home to the world's smallest penguin: The White-flippered penguin or "Little Blue Penguins". Pohatu Penguins offers unique Eco tours from Evening Penguin tours, Nature Safaris and sea-kayaking safaris to Pohatu, a beautiful working sheep farm that with 40 years of conservation efforts has become NZ largest mainland little penguin colony.
Akaroa Cooking School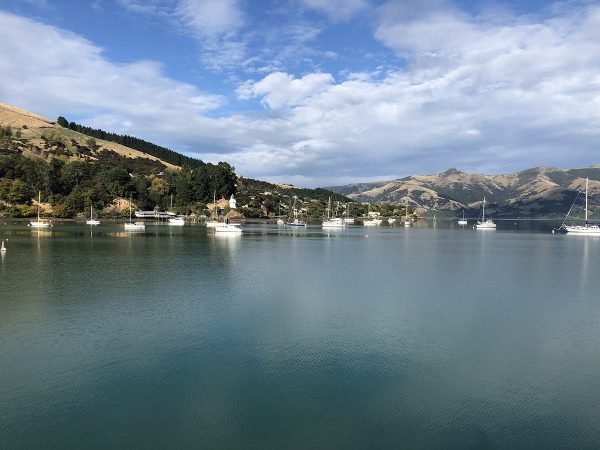 Beaufort House is delighted to be working with the Akaroa Cooking School which is a very popular attraction located opposite the main wharf in Akaroa.
The cooking school believes that cooking should be a fun part of everyday life and that each meal should be savoured and shared with friends and family wherever possible. So why not get a group together, come and stay at Beaufort House offering luxury bed and breakfast accommodation and attend a cooking class.